Kazakh PM reviews Kashagan project implementation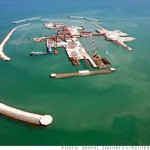 Kazakh PM Serik Akhmetov has reviewed Kashagan project implementation within the visit to Kazakh Atyrau region, the Prime Minister's press-service reported on Thursday.
"Today Prime Minister Serik Akhmetov is on a working visit to Atyrau region. He began his visit by a trip to the artificial island "D", which is the infrastructure part of the Kashagan project and is located in the Caspian Sea, 85 km south-west of Atyrau," the press-service said.
Serik Akhmetov has examined the equipment of operational and technical complex designed to produce 450,000 barrels of oil per day at the island and inspected the preparatory work for the oil and gas production at Kashagan.
Moreover, Prime Minister visited Agip KCO's Bolashak plant which is under construction.
The plant will dehydrate and stabilize oil, remove mercaptan, store and export crude oil during the Kashagan pilot development.
The plant capacity hit 22.5 million tons of oil and more than 6 billion cubic meters of gas per year.
Kashagan is one of the largest fields discovered in the past 40 years. According to analysts. Kashagan has the potential to unite the top five largest oil companies in the world. Kazakh geologists estimate geological oil reserves at 4.8 billion tons. According to the project operator, total oil reserves are 38 billion barrels (six billion tons), with a recoverable volume of about 10 billion barrels. Natural gas reserves are estimated at over one trillion cubic meters.
The companies, develop the project, are planning to begin commercial production on Kashagan in the first quarter of 2013.