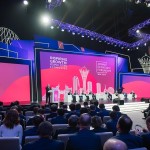 The XII Astana Economic Forum, the largest annual business event in Eurasia, took place in Nur-Sultan on 16-17 May. Politicians, investors, economists and world-renowned scientists discussed the global challenges of our time, focusing on the theme of this year's Forum: "Inspiring growth: people, cities, economies".
5,600 delegates and 460 speakers from 74 countries participated in the Forum. In addition, 381 journalists from 30 countries covered the event. Six venues were used – the Congress Center, the Hilton Hotel, the Astana International Financial Centre, the Astana Hub, St. the Regis Hotel and the Rixos Hotel.
For the first time in the 12-year history of the Forum, a completely new discussion format, unique for Kazakhstan, was held – the First Kazakhstan Forum on Achieving Sustainable Development Goals. The round table was organized for finance ministers and heads of central banks, with the participation of the International Monetary Fund (IMF). In addition, AEF Talks was organized for students and young people, which included open public lectures and meetings with Nobel laureates and politicians. The press center also organized one-on-one debates among speakers, in front of the media.
On the first day of the Forum, the plenary session was opened by Nursultan Nazarbayev, the First President of Kazakhstan, who initiated the AEF 12 years ago. He stressed the important role of the Forum in overcoming regional and global challenges.
"Ideas and recommendations discussed here in the past helped Kazakhstan to a great extent react to global challenges in a timely manner and successfully overcome difficulties. Kazakhstan's development model, despite of all the circumstances and forecasts, proved its sustainability and efficiency. We set ambitious goals and we have reached them", the First President said.
Christine Lagarde, the Managing Director of IMF, began her speech with the words of the famous Kazakh poet Abai Kunanbayev[l1] : "Walking slowly, step confidently." In her opinion, this wisdom can be the key to developing effective measures to achieve inclusive growth in the countries of the Caucasus and Central Asia. Ms. Lagarde stated that Kazakhstan and other regional countries have great potential for further development.
Armen Sarkissian, the President of Armenia, pointed out that not only heads of states, but all people should participate in the creation of a new system. He said: "Avoid calamities, design a world for newly born children. They live in a completely different world. I hope that the system we want to create will survive not only the competition between large countries but the main difficulties of a changing world."
Sberbank CEO Herman Gref, who is known for his passion for education, said: "We are all students. We try to be guided by the principle of Mahatma Gandhi – 'Live as if you were going to die tomorrow. Learn as if you would live forever'."
Other Forum participants voiced the following opinions:
Jeffrey Sachs, Professor at the Columbia University: "Kazakhstan is one of the leaders in the field of commitment to peace";
Armida Salsiah Alisjahbana, Under-Secretary-General of the UN and
Executive Secretary of the United Nations Economic and Social Commission for Asia and the
Pacific: "Kazakhstan has great potential for achieving sustainable development goals";
Juan Manuel Santos, former President of Columbia and Nobel Peace Prize winner in 2016: "Over the past few years, the progress of the sustainable development goals has been phenomenal, but this is not enough";
Stanley Fischer, former Vice Chairman of the US Federal Reserve Board of Governors: "Productivity growth is very difficult to predict. We just do everything in our power. "
The AEF has always been a platform for concluding important agreements and memorandums. This time is no different. 43 agreements were signed at the Kazakhstan Global Investment Roundtable, totaling 8.7 billion dollars.
In particular, in the field of gas chemistry, the Mayor's Office of the Mangystau region and Singaporean company Westgasoil signed an agreement on cooperation in the project of methanol and olefins production. The implementation of the project will localize the production of chemical products and promote export through the development of the gas chemical industry of Kazakhstan.
In order to develop exports, Yıldirim Holding (Turkey) and the Mayor's Office of the Zhambyl region signed an agreement on the construction of a soda ash plant in the Zhambyl region, with the design capacity of 400,000 tons per year.
An agreement was also signed between KAZAKH INVEST and the Russian investor of Agricultural Industrial Holding "ECO-Culture" to construct greenhouse complexes, in order to export agricultural products. In the food industry, a Memorandum of Cooperation was signed by the Mayor's Office of the Pavlodar region and the Beijing NAALE GROUP (China) for the construction of a sugar factory.
In the field of transport and logistics, YDA Holding (Turkey) signed an agreement with the Mayor's Office of the Turkestan region on the construction and operation of an international airport. This will be the first airport in the history of Kazakhstan constructed from scratch. In addition, an agreement was signed by KAZAKH INVEST and the AEON Corporation (Russia) to create a logistics hub on the territory of the international airport in Aktobe.
In the mining and metallurgy sector, an agreement was reached between Canarax Trading LLC (UAE) and the Mayor's Office of the Pavlodar region on the production of technical silicon with the prospect 165,000 tons per year capacity. The plant's products will be used for the production of metal alloys, organic compounds, electronics and solar energy.
In the field of healthcare, an agreement was signed with the Shanghai Constructions Group (China) on the construction of a multidisciplinary clinic with 1,000 beds in Shymkent. It is planned that the state of the art clinic, equipped with new technologies and tools, will provide a full range of medical services and will become the only center of proton therapy in Central Asia.
In the field of education, a Road Map for the implementation of the project "Construction of an Educational Metropolis – Kindergarten, School, College, University" was signed with Singaporean investor Kinder World in three cities: Nur-Sultan, Almaty and Shymkent. In the coming years, a network of international schools, colleges and universities will be built in the capital of Kazakhstan.
In addition, agreements were reached on projects such as the construction of data centers and the implementation of 5G in Kazakhstan.
A memorandum of understanding was signed between the Eurasian Economic Commission (EEC) and the United Nations Economic and Social Commission for Asia and the Pacific (UNESCAP). The document was endorsed by Timur Zhaksylykov, a member of the EEC collegium, and Armida Salsiah Alisjahbana, Deputy Secretary-General of the United Nations, Executive Secretary of UNESCAP.
The international media noted the effectiveness and credibility of the Forum. Euronews described the AEF as one of the most influential international platforms, where issues of the development and restoration of the world economy and the financial system are being discussed. Bloomberg also considers the AEF the main discussion platform in Central Asia: "Since the launch of the Forum 11 years ago, the event has become one of the most influential international platforms for discussing the issues of the world economy".
The Forum's foreign guests noted the high level of organization of the event, including excellent planning at the venues, developed infrastructure, interesting discussion formats, a memorable opening ceremony of the plenary session and an original design of the halls. Many participants shared the opinion that "the AEF was free from the official narrative, the communication was highly valued here." The productive, lively dialogues fully correspond with the concept of the Astana Economic Forum.
These are the results of the AEF-2019, organized this year by Astana EXPO-2017. The next 2020 Forum is promising to be just as spectacular as this year.
http://astanaeconomicforum.org
Photo from Akorda.kz
20th of May, 2019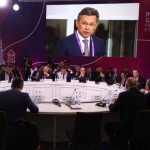 Il 17 maggio 2019 nell'ambito del Forum Economico di Astana, si sono svolte le sessioni: "Global Silk Road – Mayors' Forum" e "Sviluppo dell'imprenditoria nei paesi della Via della Seta: problemi e soluzioni"
La Camera di Commercio Italo-Kazaka (AIK) ha partecipato al Forum sull'invito dell'organizzatore e moderatore della sessione "Sviluppo dell'imprenditoria nei paesi della Via della Seta: problemi e soluzioni", Chairman of Union of the International association "Global Silk Road" Bolat Smagulov.
A dicembre del 2018 e' stato firmato il MOU tra la Camera di Commercio Italo-Kazaka (AIK) e l'associazione "Global Silk Road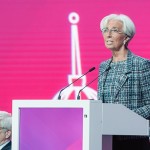 Christine Lagardebelieves that the mediation of Kazakhstan can relieve global tensions.
The Managing Director of the International Monetary Fund, Christine Lagarde, believes that global tensions are expected to decrease in the next six months, and Kazakhstan's mediation can play an important role. She announced this on Thursday during the plenary session of the XII Astana Economic Forum.
"Our forecast indicated that 75% of the global economy has accelerated over the past two years, however, unfortunately, in 2019 we see that 70% of global GDP slowing down. I am not suggesting that there is a recession, but the slowdown is unambiguous compared to last year, where we see it has decreased from 3.6% to 3.3%." said Lagarde.
She expressed the hope that next year the GDP will yet again increase to 3.6%, which suggests that "there will be no financial tightening of the belts and no additional risks." Among the possible risks, she cited international tensions that are found in abundance, in particular between that of the United States and China.
"Although we expect a global economic rebound in the next six months, we cannot be certain. And we hope that the voltages that exist at the moment will be relaxed for certain reasons. And your mediation, perhaps Mr. President Nursultan Nazarbayev, will help with this, "Lagarde stressed.
In general, the IMF Managing Director stressed that if Central Asia can use the opportunities of financial technologies, as the emerging market countries in other regions have done, this can significantly improve the situation of poor citizens, women and youth.
"In this morning's session, I'll look more at increasing inclusiveness within countries, but today's forum also offers opportunities for expanding ties between countries," she concluded.
The Astana Economic Forum is the flagship business event in Eurasia.
Since the launch of the AEF eleven years ago, the event has become one of the most influential international platforms for discussing issues of the world economy and the financial system. Over 50,000 delegates participated in the forum from 150 countries, including more than 20 Nobel laureates and 30 high-level foreign political figures.
http://astanaeconomicforum.org
Photo from Akorda.kz
16th of May, 2019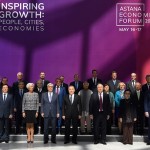 Today, on May 16th, the XII Astana Economic Forum (AEF) under the theme "Inspiring growth: people, cities, economies" has begun.
At the plenary meeting of the AEF-2019, the First President of the Republic of Kazakhstan – Elbasy Nursultan Nazarbayev announced that digital transformation is changing the face of our familiar economy, and mobile creative human capital is becoming the main driver of growth. "By 2030, about 375 million people around the world will need to undergo training and change their profession," said Nazarbayev.
He also shared the forecast that by 2050, 7 out of 10 people will be urban citizens residing in cities. "Therefore, investments now no longer address countries, but cities," explained Nazarbayev.
The Managing Director of the International Monetary Fund, Christine Lagarde, expressed that "Although we expect a reduction in global tensions in the next six months, we cannot be certain. We hope that the voltages that exist at the moment will be relaxed for certain reasons. And your mediation, perhaps, Mr. President Nursultan Nazarbayev, will help with this. "
Regarding technology, "We are developing an artificial intelligence that will completely change our life," said President of the Republic of Armenia Armen Sarkissian.
"The innovations are about the expansion of human capital. To achieve success in this matter we must strengthen educational platforms and train qualified professionals", – noted Vice-premier of State Council of People's Republic of China Han Zheng.
"Every nation can benefit from global economic growth," said Nobel Prize economics (2018), World Bank chief economist (2016–2018) Paul Romer.
Meanwhile, the Chairman of the Board of Sberbank, Herman Gref, ensures that "If you did not start yesterday, then today you are already late."
This year's AEF is unprecedented. In two days more than 50 sessions and events will take place – these are record numbers for the 12-year history of the AEF. Furthermore, for the first time, students and youth have the opportunity to take part in AEF Talks and meet Nobel laureates and politicians. Also for the first time, a round table was held with the participation of the International Monetary Fund for Ministers of Finance and governors of the central banks of the countries and the first Kazakhstan forum on the UN sustainable development goals.
http://astanaeconomicforum.org
Photo from Akorda.kz
16th of May, 2019
May 3, 2019
AKSAI, Western Kazakhstan Oblast, 3 May 2019 – Karachaganak Petroleum Operating B.V. (KPO) has announced that the partners in the Karachaganak project have signed the agreement sanctioning the Fourth Injection Compressor (4IC) Project.
Edwin Blom, KPO General Director, said: "The sanctioning of the 4IC Project is a significant achievement, as it marks an important milestone in the continued development of the Karachaganak field. Aimed at extending the duration of the liquid production plateau, the 4IC Project will bring significant additional value for the Republic of Kazakhstan and the Karachaganak Partners. The project will also provide resources for further investment projects on the field", added Edwin Blom.
4IC Project is the last of the three Karachaganak Plateau Extension Projects (PEP), which also include KPC Gas Debottlenecking Project (KGDBN), the 5th Trunkline & Wells Project, entering into the execution phase. One of the key priorities for KPO during execution of these projects will be maximizing the Local Content development aimed at growing the local contractors' competitiveness in the upcoming Karachaganak Expansion Project (KEP).
KPO Corporate Affairs Department
Dear Sir or Dear Madam,
I have the honor to send you information regarding the upcoming exhibition of Kazakhstan producers "Ulttyq ónim – 2019", which will be held on May 4-6, 2019 in Nur-Sultan.
The exhibition is held on an annual basis with the participation of leading Kazakhstani entrepreneurs, and is an attractive platform for foreign companies. The exhibition will also include seminars, B2B meetings, workshops, expert consultations, etc.
Last year, the exhibition gathered over 350 enterprises of the food, construction, furniture and textile industries, agriculture, manufacturers of specialized machinery and equipment, souvenirs and printing products. This year more than 500 enterprises are planned to take part in the exhibition. The exhibition will also present Kazakhstani investment companies, such as Baiterek National Management Holding, DAMU Entrepreneurship Development Company, and others, whose mission is to support the sustainable development of micro, small and medium enterprises in Kazakhstan.
Attached please find the information about the exhibition "Ulttyq ónim – 2019" and the catalog of participants last year's exhibition.
Visiting the exhibition is free.
Please, do not hesitate to contact me or Ms. Aigerim Nurlan, Coordinator for International Participation (Mob.:+7 702 000 2690, e-mail: aigerim.nurlan@protonmail.ch)  for more information.
Best regards,
Baurzhan ZHUMAGULOV
Embassy of Kazakhstan in Italy
Mobile: +39 334 185 0366
The Italian-Kazakh business meeting on strategic cooperation "Internationalization and local content 2.0" took place on March 27th during the one of the world biggest Offshore Mediterranean Conference & Exhibition, Ravenna, Italy. The meeting was organized in collaboration with the General Confederation of Italian Industry (Confindustria), Assomineraria Association, Eni, "KazService" Association, the Kazakhstan National Chamber of Entrepreneurs Atameken, as well as KazEnergy Association.
Kazakh and Italian business is stepping ahead to improve the efficiency of cooperation. Luigi Ciarrocchi, the President of Assomineraria, highlighted that the meeting will deepen Kazakhstan-Italian collaboration, and bring about the understanding of the additional room for partnership because this cooperation is the real engine for the industry development.
Kazakhstani and Italian enterprises see many opportunities to work in a more efficient way by bringing together skills and knowledge from Italy to Kazakhstan and vice versa. For instance, Kazakh companies know how to work in a sour and harsh environment, and can help Italians to develop gas fields with sour content.
Another opportunity to generate more value for Italian investors is goods manufacturing. Cables, transformers, pumps, flanges and fittings, high-pressure vessels, construction materials, reservoirs, heat exchangers, valves, steel fabrication can be produced in Kazakhstan due to a constant demand as well as obligations for companies to buy products and services produced in Kazakhstan.
"Now is a period to develop assets. There are three major projects: Tengiz, Karachaganak, and Kashagan. As Eni, we are presenting only two of them, and really want to attract your attention to this country", – assured Luca Vignati, Eni Executive Vice President for the Central Asian region. "There is a pipe of few important projects that in the next 5-7 years has to be developed. Kashagan, thanks to the extremely good performance of the assets, brings many possibilities for the joint ventures. Apart from existing projects, we discuss with Kazakhstan government Kalamkas field development and see a high potential there".
Kazakhstan Oil and Gas service industry annual turnover is 8 bln. USD, and it gives a job for more than 1,000 companies with a total number of 180 000 employees. Oilfield service market reaches 7,9 bln USD. Whereas, the share of Tengiz, Karachaganak and Kashagan procurements of goods, works and services is more than 75%.
At the same time, Raushan Naizabayeva, representative of Petrocouncil.kz, united efforts of the National Chamber of Entrepreneurs ATAMEKEN and "KazEnergy" Association, mentioned that the Republic of Kazakhstan ensures the stability of terms of agreements between Italian partners and state bodies of the Republic of Kazakhstan. There are several investments benefits created by Kazakhstani government, including exemption from import customs duties, state in-kind grants, tax incentives; providing free lands and simplifying procedures, and Investment subsidies. Petrocouncil is willing to advice all the government support available for the Italian companies in Kazakhstan.
Thanks to Confindustria and Eni both sides, Italian and Kazakh received crucial information on economically feasible goods production, annual consumption, and markets volumes. Next time both sides will meet during another event in the capital of Kazakhstan, Nur-Sultan – at the September Kazenergy Week.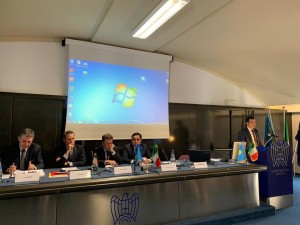 Oggi, 27.3.19 ore 15:00 in occasione della Manifestazione OMC2019, una delegazione di aziende e rappresentanti delle Autorità Kazake è stata ricevuta oggi pomeriggio presso Confindustria Romagna di Ravenna per valutare opportunità di business e cooperazione strategica con le aziende italiane. Hanno partecipato all'incontro da parte della Camera di Commercio Italo-Kazaka Segretario Generale Goulsim Joumagulova e External Relations Manager Kazakhstan Roza Rysbekova.
Milano il 7 marzo 2019
nel Workshop  annuale di Assomineraria del settore Beni e Servizi  "La filiera energetica: scenari e innovazione per lo sviluppo sostenibile"  hanno partecipato i nostri rappresentanti Ing. Paolo Ghirelli – Presidente della CCIK  (Presidente Bonatti S.P.A) e Segretario Generale – Gulsim Joumagulova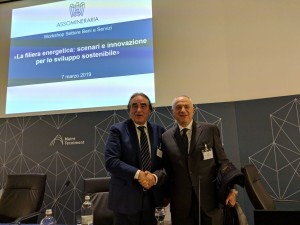 Nella foto:
il Presidente della Camera di Commercio Ing. Paolo Ghirelli (Presidente Bonatti S.P.A) con il Dott. Sergio Polito – Vice Presidente Assomineraria Settore Beni e Servizi