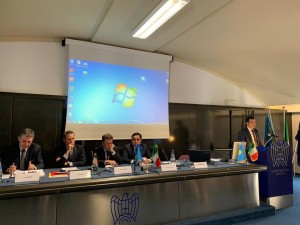 Oggi, 27.3.19 ore 15:00 in occasione della Manifestazione OMC2019, una delegazione di aziende e rappresentanti delle Autorità Kazake è stata ricevuta oggi pomeriggio presso Confindustria Romagna di Ravenna per valutare opportunità di business e cooperazione strategica con le aziende italiane. Hanno partecipato all'incontro da parte della Camera di Commercio Italo-Kazaka Segretario Generale Goulsim Joumagulova e External Relations Manager Kazakhstan Roza Rysbekova.
Milano il 7 marzo 2019
nel Workshop  annuale di Assomineraria del settore Beni e Servizi  "La filiera energetica: scenari e innovazione per lo sviluppo sostenibile"  hanno partecipato i nostri rappresentanti Ing. Paolo Ghirelli – Presidente della CCIK  (Presidente Bonatti S.P.A) e Segretario Generale – Gulsim Joumagulova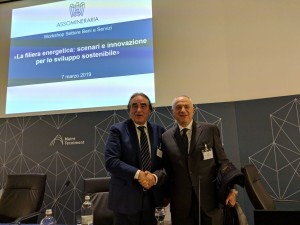 Nella foto:
il Presidente della Camera di Commercio Ing. Paolo Ghirelli (Presidente Bonatti S.P.A) con il Dott. Sergio Polito – Vice Presidente Assomineraria Settore Beni e Servizi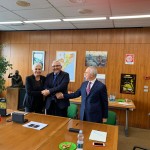 Dal 16 al 19 dicembre 2018 la Camera di Commercio Italo Kazaka (AIK) ha ospitato a Parma e Milano una delegazione kazaka guidata dal Sig. Bolat S.Smagulov, Presidente del Consiglio di Union of Legal entites "Global Silk Road "Association"(www.gglobal.org)
La "Union of Legal entites -The Global Silk Road International Association" è stata fondata nel 2018 nel quadro dell'attuazione del progetto internazionale "The Global Silk Road" per creare una serie di condizioni favorevoli allo sviluppo di obiettivi sociali, culturali, scientifici, educativi, caritatevoli, manageriali; protezione dei diritti e degli interessi legittimi di cittadini e organizzazioni; controversie e risoluzione dei conflitti; soddisfare i bisogni spirituali e gli altri dei cittadini; protezione della salute pubblica, protezione dell'ambiente, sviluppo della cultura fisica e dello sport; fornire assistenza legale, nonché per altri scopi volti a garantire i beni e i benefici pubblici dei suoi membri; integrazione e interconnessione di progetti internazionali di G-GLOBAL, United Fate Community e altri progetti internazionali implementati nei paesi lungo la via della Via della Seta.
In occasione della presenza della delegazione kazaka, la Camera di Commercio Italo-Kazaka (AIK) ha organizzato gli incontri presso gli uffici  delle Camere di Commercio della Regione Emilia Romagna, l'Unione Parmense Industriali (UPI), CePIM Interporto di Parma  per lo sviluppo di iniziative congiunte italo-kazake nel quadro del progetto "Global Silk Road". Il centro dell'intera missione è stata la promozione di joint venture e la possibilità di investimenti e di trasferimenti di nuove tecnologie dall'Italia al mercato kazako.
La sede delle Camere di Commercio della Regione Emilia Romagna è stata la prima tappa della missione, il Presidente della Camera e della Stazione Sperimentale SSICA di Parma Andrea Zanlari ha presentato alla delegazione le più evolute tecniche e le più approfondite ricerche sperimentali che questo ente porta avanti da anni, promuovendo il progresso scientifico e tecnologico dell'industria conserviera italiana per i settori frutta, ortaggi, carni e pesce attraverso attività di ricerca applicata, consulenza, formazione e divulgazione.
La seconda tappa è stata la sede di UPI Parma Unione Parmense degli Industriali, Direttore Cesare Azzali,
Che ha illustrato le piu' importanti realta' parmensi.
L'incontro con I dirigenti di CePIM Interporto di Parma si è concluso con l'accordo tra le parti per lo sviluppo di iniziative congiunte italo-kazake nel quadro del progetto "Global Silk Road".
L'ultima tappa si è svolta a Parma presso l'ufficio di Bonatti S.p.A., General Contractor per l'industria petrolifera e attivo in Kazakhstan dal 2000. Accolti dal Presidente e CEO del Gruppo Paolo Ghirelli, gli interlocutori centrasiatici hanno assisto all'illustrazione del progetto di sistema di saldatura automatica per le attività di trasporto idrocarburi per il mercato kazako e CSI.
Dopo gli interventi dei rappresentanti di tutte le associazioni ed enti, l'Union of Legal entites "Global Silk Road "Association", Camera di Commercio Italo – Kazaka, Camere di Commercio della Regione Emilia Romagna, UPI Parma Unione Parmense degli Industriali, il pubblico ha posto delle domande specifiche sulle opportunità che il Kazakhstan offre.
La missione di Union of Legal entites "Global Silk Road "Association" in Italia si è conclusa il 17 dicembre 2018 con la firma del Memorandum of Understanding tra la Camera di Commercio Italo-Kazaka (AIK) e l'Union of Legal entites "Global Silk Road "Association".
Il Memorandum è stato firmato dal Sig. Bolat S. Smagulov Presidente del Consiglio dell'Union of Legal entites "Global Silk Road "Association", dall'Ing. Paolo Ghirelli, Presidente della Camera di Commercio Italo-Kazaka (AIK) Paolo Ghirelli e dal Segretario Generale della CCIK Sig.ra Goulsim Joumagoulova.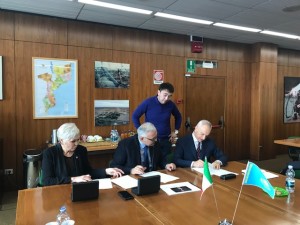 Ing. Paolo Ghirelli, Presidente della Camera di Commercio Italo-Kazakhstan:
– La cooperazione economica con il Kazakhstan si sta sviluppando, sopratutto nel settore del petrolio e del gas. Ci sono molte aziende italiane in questo settore. Devo dire che e' stata istituita una cooperazione veramente efficace tra i nostri paesi. Le autorita' del Kazakhstan creano un buon clima economico nel paese.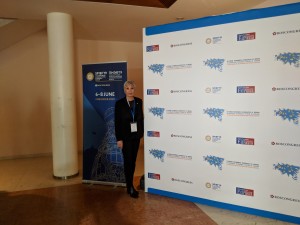 On 31 October – 2 November, 2018 we invite you to the 13th Central Asian International Agriculture Exhibition – AgroWorld Kazakhstan 2018, which will be held at: Pavilion 10, KCBC "Atakent", 42, Timiryazev Str., Almaty
Dear visitors, to get a free badge to visit the exhibition, you need to enter a promo code – AWK2018KP
Link https://www.agroworld.kz/en/get-e-invitation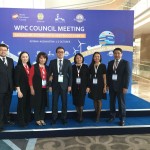 October 2, 2018 in Astana at the Hilton Astana Hotel hosts a conference on "Investment opportunities: new solutions for sustainable growth. "By the organizers KAZENERGY Association jointly with the Ministry of Energy of the Republic of Kazakhstan. This Conference is held within the framework of the World Petroleum Council (WPC) Meeting. The Conference is aimed at demonstrating new investment opportunities of the Republic of Kazakhstan to the heads of delegations of the WPC National Committees, providing a unique opportunity to strengthen the international authority of the country, as well as giving a powerful impetus to the investment cooperation with many countries across the world..
These days in Astana, meeting of the World Petroleum Council is held. WPC is a large international non-profit organization that unites both OPEC and non-OPEC countries and provides a neutral and non-political platform for participation of major international oil and gas companies. The WPC members include 63 world countries, which represent over 95% of the global oil and gas production and consumption.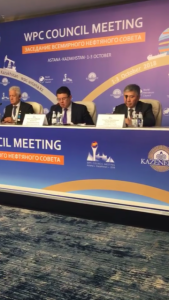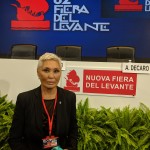 Partecipazione istituzionale della Camera di Commercio Italo-Kazaka con il Desk Country Kazakhstan  in collaborazione  con la Regione Puglia alla Fiera del Levante, Bari 8-16  settembre 2018
Crescita record dell'export pugliese in Kazakistan. +210,8% nei primi sei mesi del 2018
Sul commercio estero made in Puglia, È il Kazakistan a guidare la classifica della crescita dell'export pugliese, con un incremento record: +210,8% nei primi sei mesi del 2018 rispetto allo stesso periodo dell'anno precedente.
I dati, gli ultimi disponibili,  su fonte Istat, sono emersi nel corso delle Country Presentation, nel padiglione Internazionalizzazione della Regione Puglia – Stand 110  alla Fiera del Levante.
Segno evidente di tempi nuovi nello scenario economico mondiale, ma segno soprattutto di nuove destinazioni delle merci pugliesi che si allargano verso confini ad oggi poco, se non per nulla, esplorati.
Il Kazakhstan  ha registrato uno dei tassi di crescita più dinamici al mondo, triplicando il reddito pro- capite.
Il Paese, ricchissimo di risorse minerarie, oggi è considerato un bacino particolarmente denso di opportunità in relazione alla " Nuova Via della Seta", iniziativa proposta dal Presidente Cinese Xi Jinping che fa del Kazakhstan punto centrale degli scambi commerciali tra Europa e Medio ed Estremo Oriente. Alla "Nuova Via della Seta" sono destinati tra l'altro i più grandi investimenti infrastrutturali della storia.
Sviluppo economico della Regione Puglia Antonio Nunziante: "Aver favorito nel padiglione dedicato all'Internazionalizzazione, proprio la conoscenza di questo Paese attraverso i Country Desk Kazakhstan e il Country Presentation ha colto la tendenza e reso un utile servizio alle nostre imprese. Non a caso il mercato Kazako è entrato a far parte delle strategie regionali in tema di internazionalizzazione già da alcuni anni. E infatti la Regione Puglia con un'importante delegazione ha partecipato all Expo 2017 Astana, l'esposizione internazionale che si è svolta nella citta Kazaka da giugno a settembre. Oggi questi sforzi sono compensati dai risultati. La squadra dell'internazionalizzazione, composta dalla Sezione regionale omonima e da Puglia Sviluppo, continuano ad essere a disposizione delle imprese interessate ad approfondire la conoscenza di questi ed altri mercati esteri.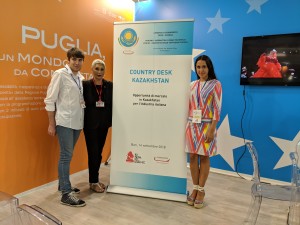 Karachaganak Petroleum Operating B.V. (KPO) plans to hold a Local Content Forum for international and Kazakhstan suppliers, as well as relevant state authorities and associations with the aim to introduce with Karachaganak Expansion Project 1st stage of development (KEP-1), KPO requirements to goods, works and services providers (GWS), with KEP-1 local content strategy and expected needs.
 This Forum will provide an opportunity for local suppliers to meet with representatives of:
−     KEP-1 implementation Project Team, the Contracts and Procurement Department, the Market Intelligence and Vendor Qualification Department, the Local Content Development Department – to clarify the issues related to the KEP-1 scope and associated requirements;
−     Major foreign oil and gas suppliers and service providers – to discuss the possibility of establishing a potential partnership with Kazakh companies for the supply of goods,  works and services to KPO or providing associated services as a subcontractor, obtaining all information from local suppliers and service providers and agreement of further ways of cooperation.
 The Forum is a one-day event will take place on 7th of September 2018 in the conference room of "Hillton Astana" hotel in Astana (46 Sauran str., Expo region).
Draft KEP forum agenda_09.08.18
Local Content Interface & Planning Coordinator
Local Content Development
Karachaganak Petroleum Operating B.V. (KPO)
 Astana Tower 8th floor, Samal 12,
010000 Astana, Kazakhstan
Office: +7 7172 591672 ext. 5028
Mob.: +7 771 809 21 01
"THE ASTANA TIMES"
BY AIDANA YERGALIYEVA in INTERNATIONAL on 24 JULY 2018
ASTANA – Recently-appointed Italian ambassador Pasquale D'Avino says there's a need for direct Kazakhstan-Italy air connections due to the growing interest among Kazakhs in Italian culture and the prospects of economic cooperation between the nations.
In a recent interview, he said his top priority is establishing direct flights between Almaty-Milano and Astana-Rome by the beginning of next year, as he expects the routes will significantly increase tourism and cultural exchange. They will make trips easier for the growing number of businesspeople and Kazakh travellers wishing to visit Italy, while at the same time attracting more Italian investors and creating improved cooperation.
Kazakh interest in Italy is tangible
D'Avino noted Kazakhs have increasing interest in Italy based on the ever-growing numbers coming to the embassy for visas each year, a figure that has reached approximately 40,000 annually. There is also a high demand for language and culture courses. The capital's Nazarbayev University and Al Farabi University in Almaty offer language courses, and he added the embassy plans to start Italian classes for students at Nazarbayev Intellectual Schools (NIS).
"This is a reason of being proud for us. This is a brilliant school institution. We believe we can show the rich Italian cultural heritage," he said.
Many Kazakhs currently study in Milan, Rome and Reggio Calabria, the latter gaining popularity especially among opera singers seeking to study Italian phonetics.
Kazakh interest in Italy is piqued by the Almaty and Astana opera houses staging numerous classic Italian masterpieces, such as this year's anniversary celebration of composer Gioacchino Rossini. D'Avino noted the collaborative work of Astana Opera House and Genoa's Teatro Carlo Felice, which participated July 5-6 in the capital's gala event honouring its 20th anniversary.
"Opera is certainly the flag of Italian presence here in Kazakhstan's major cities," he said.
It is not only Renaissance art and performances that are appreciated in Kazakhstan, as modern sounds are also encouraged. For Astana Day, the embassy and the Astana mayor's office organised a concert featuring the Gabriele Buonasorte Quartet and Mauro Negri.
For those who want to enjoy additional events dedicated to Italian culture, the ambassador suggests visiting the National Museum next month, as beginning Aug. 3 Italian galleries will display paintings from Picasso's time. A similar exhibit is planned for a later date featuring young Kazakh and Italian artists and special events dedicated to Italian design, language and cuisine will be also organised in the next few months.
Economy as a backbone of relations
Italy is an important economic partner for Kazakhstan. ENI, a big player in the oil and gas field, brings the most advanced technology to cities such as Aktobe and Atyrau and the Karachaganak,  Kashagan and Tengiz fields, the envoy said.
Italy is also supporting Kazakhstan in transitioning to renewable energy and ENI's wind factory project in Aktobe oblast will soon be completed.
The relationship is expected to strengthen as the Kazakh economy continues to develop. Although Italy appears quite small on the map, it has more than five million working companies, yet only 300 companies with Italian participation are registered in Kazakhstan. Italy is a very promising partner in terms of cooperation potential and attracting investment.
D'Avino believes Kazakhstan is establishing a good basis for a favourable business environment through the Astana International Financial Centre (AIFC), as well as the nation's banking and finance systems. He noted Kazakh legislation and institutional changes seem persuasive. If Kazakhs want to build an advanced economy, however, these amendments should not only exist de jure (legally recognised), but also be enforced in conjunction with privatisation and the Belt and Road Initiative. One problem is the contrast in conducting business between highly-developed big cities and underdeveloped regional ones.
"Kazakhstan has very competent, skilful, high ranking managers. The presence of top management is interesting, but it is limited to Astana and Almaty. We want to see the same development in the regions," he said.
D'Avino supports President Nursultan Nazarbayev's plan to diversify the economy and highlighted the importance of Kazakhstan's new emphasis on agribusiness for Italy. He referred to the ongoing negotiations between Kazakh and Italian companies for a pasta factory near Kostanai, a city with an abundance of wheat and grain.
Italian companies may also be interested in the country's railway system and defence and tourism industries, including in the Tian Shan mountain region in the latter category. The automobile industry is another area with a big future and a notable example is Fiat-Iveco buses running in the capital.
D'Avino described the relationship between the countries as excellent. After the collapse of the USSR, Italian Prime Minister Silvio Berlusconi was the first European leader to recognise Kazakhstan as a very reliable country, the envoy noted. Former Prime Minister Romano Prodi and former Minister of Foreign Affairs Franco Frattini are regular visitors to the Kazakh capital. Friendly relations have continued as the countries have always had a common interest in their commitment to peace and a free market economy.