Pavlodar petrochemical plant to receive one million tons of Russian oil by year end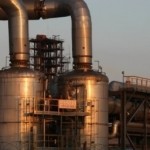 One million tons of Russian oil will be delivered to the JSC Pavlodar Petrochemical Plant (PPCP) before the end of the year, general director of the company Shukhrat Danbay told Trend.
"In October, the plant received 500,000 tons of Russian oil. Another 500,000 tons of raw materials from Russia will be delivered during each of the remaining months – November and December," Danbay said.
He noted that the plan for processing amounted to five million tons this year. There have been no disruptions in the supply of raw materials from Russia since the autumn," Danbay said.
The Pavlodar refinery was built in the 1970s, during the Soviet Union occupation and initially was technologically oriented on processing Russian crude oil from fields in Western Siberia.
PPCP produces gasoline, diesel and jet fuel, fuel oil, natural gas, oil, bitumen, coke and sulphur.
The design capacity is 7.5 million tons per year, refining depth about 85 per cent. PPCP shareholders are TOO Refinery Company RT (subsidiary of KMG – processing and marketing) – 58 per cent, and NWF Samruk-Kazyna – 42 per cent.