Tashkent, Astana to discuss bilateral cooperation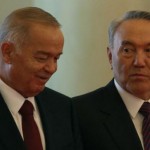 Kazakhstan's ambassador Boribay Zheksembin discussed the agenda issues of the forthcoming 12th session of the intergovernmental commission on Uzbek-Kazakh cooperation with the Foreign Ministry of Uzbekistan, the Kazakh Embassy press service reported.
According to the Uzbek Foreign Ministry, during the meeting the sides also discussed the implementation of agreements reached at the Uzbek-Kazakh summit in Astana on September 6-7, 2012. They exchanged views on further development of cooperation in the political, diplomatic, economic, trade, cultural and humanitarian fields.
As was reported, early in September, President Islam Karimov made an official visit to Kazakhstan.
Then the presidents Islam Karimov and Nursultan Nazarbayev agreed on further improvement on the work of the intergovernmental commission on bilateral cooperation.
Instructions were given to the relevant government authorities of the two countries on the development of a further increase of the volume of bilateral trade and investment, creating favourable conditions for the transport and transit of foreign trade goods, promotion of cooperation between small business and entrepreneurship.
Kazakhstan supported Uzbekistan's decision to become a member of the Treaty on the Free Trade Zone. It was agreed to take concerted action steps for early completion of the multilateral negotiation process on registration of Uzbekistan's accession to the treaty by late 2012.
Kazakhstan is one of the major trade partners of Uzbekistan. It accounts for more than half the trade turnover with the regional states. According to the totals of 2011, the trade turnover between the two countries amounted to $2.7 billion.
A solid legal framework, consisting of almost 140 documents has been established between the states and the Economic Cooperation Strategy 2016 will be in effect till 2016.