Kazakh president orders strengthening of foreign, economic activities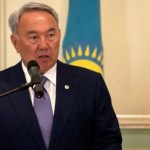 Kazakh President Nursultan Nazarbayev has instructed the Foreign Ministry to strengthen the country's foreign, economic activities, the presidential press service said on Friday.
"The work on the foreign and economic affairs of the Foreign Ministry must be strengthened," Nazarbayev said at a meeting of the Ministry. "We are implementing a programme of industrial and innovative development. Our task is to attract new technologies. It is important to work very pragmatically."
In particular, Nazarbayev has ordered the strengthening of the embassy's activity in the countries having serious economic contacts and interests.
"We have come to a point when we have the opportunity to invest abroad," he said. "If necessary, we can become shareholders in high-tech companies."
Nazarbayev said that Kazakhstan's activity in the Customs Union and Common Economic Space must be one of the priorities for the Foreign Ministry in the coming years.
The Kazakh Foreign Minister was replaced today. Kazakh former ambassador to the U.S Yerlan Idrisov became the new foreign minister.
During the meeting, Nazarbayev stressed the successful work of the Foreign Ministry on all fronts over the last 10 years and thanked former Foreign Minister Yerzhan Kazykhanov for his work.