Azerbaijan-Kazakhstan Friendship Society : meeting in Baku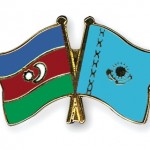 Baku has hosted a meeting of the Azerbaijan-Kazakhstan Friendship Society named after Heydar Aliyev. The event was organised by the Embassy of Kazakhstan in Baku and is timed to coincide with the 20th anniversary of diplomatic relations between the two countries.
At a meeting, Ambassador of Kazakhstan in Baku, Serik Primbetov described the embassy's work aimed at developing bilateral relations. In particular, he recalled such recent events as the opening at the Baku State University's Kazakh language Centre named after Abay, the publication of Kazakh President Nursultan Nazarbayev's book in Azerbaijani, days of the Kazakh cinema in Baku and a teleconference on Astana, Baku friendship conducted jointly with the Azerbaijani Embassy in Kazakhstan. There was a large bilateral business forum in Aktau, the establishment of close relations in the agricultural sector and a series of exhibitions and concerts with artists of Kazakhstan to Baku.
The ambassador also said that an Azerbaijani diaspora of 132,000 people live in Kazakhstan. It is actively involved in the country's public life. Kazakhstan publishes Azerbaijani newspapers and magazines. Azerbaijan, in turn, is home to many people from Kazakhstan.
Primbetov then presented letters of appreciation to members of the Kazakhstan-Azerbaijan Friendship Society, who contributed to the development of relations between the two countries.