Kazakhstan conclude le Universiadi di Kazan (RUS) con un numero record di medaglie. Le prossime due Universiadi: 2015 a Gwangju, Corea del Sud e 2017 ad Almaty, Kazakhstan!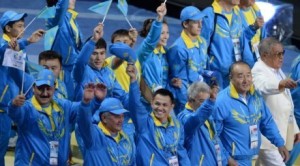 Kazakhstan has entered the Top 20 of the best national teams at the Universiade in Kazan, Tatarstan.
The Kazakhstan national team is in 19th place by the medal count with a total of 30 medals of different value. Kazakhstan's student athletes have been participating in the competition since 2001. The total number of awards they won at the six previous Universiades (the competition is held every second year) is 36 medals. Kazakhstan won the record number of gold medals in 2007 in Bangkok, Thailand, when the athletes brought 5 gold out of the total of 14 medals.
Kazakhstan athletes won 3 gold, 11 silver and 16 bronze medals this year. 
The gold medals have been earned by weightlifter Farkhad Kharki, athlete Margarita Mukasheva and women's air rifle shooting team (Olessya Shegirevich, Yuliya Morozova and Aleksandra Malinovskaya).
The silver medal holders are weightlifters Karina Goricheva and Aleksandr Zhaichikov, fencer Ruslan Kurbanov, boxers Rustam Rustamov and Zhan Kossobutyskiy and belt wrestlers Moldashev Dimash and Eskarkhan Oskanov, Beimet Kanzhanov and Bagdat Zharylgassov in sambo and Sergey Yemeliyanov (2 medals) in rowing.
The bronze medal have been won by wrestlers Berdakh Primbayev, Alikhan Jumayev, Almat Kebispayev, Askhat Zahnbirov and Nurmakhan Tinaliyev, boxers Yerzhan Zhomart and Nurdaulet Zharmanov, belt wrestlers Ayan Yermekbayev and Gulnur Yerbolova, athletes Yevgeniy Ektov and Nikita Filippov, Azhar Kenbei and Dildash Kuryshbayeval in sambo, men's fencing team and women's skeet shooting team (2 medals).
Russian national team has won by the medal count with the record total of 292 medals (155 gold, 75 silver, 62 bronze). China is in the 2nd place with the total of 77 medals (26 gold, 29 silver, 22 bronze) and the 3d plac
The previous record by the medal count was set by China at the 2011 Universiade in Shenzhen, China. Chinese athletes then won 75 gold, 39 silver and 31 bronze medals.
Almost $7 billion was spent to hold the Universiade this year, according to preliminary calculations. This makes the 2013 Universiade in Kazan the most expensive one.
The next 2015 Universiade will be held in Gwangju, South Korea and on 2017 will be held in Almaty!